Apprentices from Sellafield Ltd celebrate their graduation in Project Management at a graduation ceremony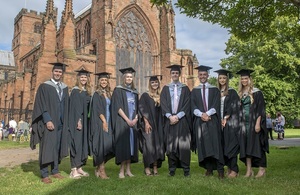 This week a group of project management graduate apprentices from Sellafield Ltd. graduated from Carlisle Cathedral.
One of the This group of students is the first group of students in the country to receive an integrated level 6 diploma in project management.
The University of Cumbria collaborates with the Apprenticeship Program to deliver the 4-year degree program.
They have completed a number of professional certifications and training programs during this time, including the Association for Project Management's Project Management Qualification (APM PMQ).
To complete their learning, they combined university studies with hands-on project experience within Sellafield Ltd.
Project-related professions such as construction, commissioning and pre-operations, risk, project controls, and project management have all seen internships.
The final phase of their learning was passing the final assessment, which included a professional discussion and report on a workplace project.
Upon graduation, apprentices will be employed in project delivery positions within Sellafield Ltd., including those at Sellafield Information Organization of services, legacy pools and various value streams (ISO).
After receiving their certificates, our apprentices will begin the APM Accredited Project Management career path with Sellafield Ltd.
Sellafield Project Manager Andy Sharples said:
Congratulations to the apprentices who have just graduated in Project Management from the University of Cumbria.
The success of this program is the result of exceptional candidates, a committed learning team and investment managers who ensure it succeeds every year.
Achieving our goal of providing a clean and safe environment for future generations will be greatly aided by these graduates.
They worked extremely hard and their excellent diplomas attest to this.
They are a credit to our organization.
I hope they have a prosperous future working for us.
Ian Sinker, associate professor of education and workforce development at the University of Cumbria, said:
Our graduation ceremony highlights the range of our collaborations with employers and highlights the importance of our position in workforce development, which includes a key role for our long-standing engagement with Sellafield. ltd.
We are happy to announce that this summer, after a 4-year apprenticeship, the first class of project management license apprentices graduated.
Other graduates from Rolls-Royce and other companies graduated alongside this inaugural class from Sellafield Ltd.
We are pleased to continue to offer Sellafield Ltd's Project Academy, now in its seventh year, and to have signed a new contract with the company to provide this project management degree learning to the 'coming.
↯↯↯

Read more on the subject on TDPel Media ↯↯↯
Related