Embry-Riddle computer science and project management students create app for pilots | Embry-Riddle Aeronautical University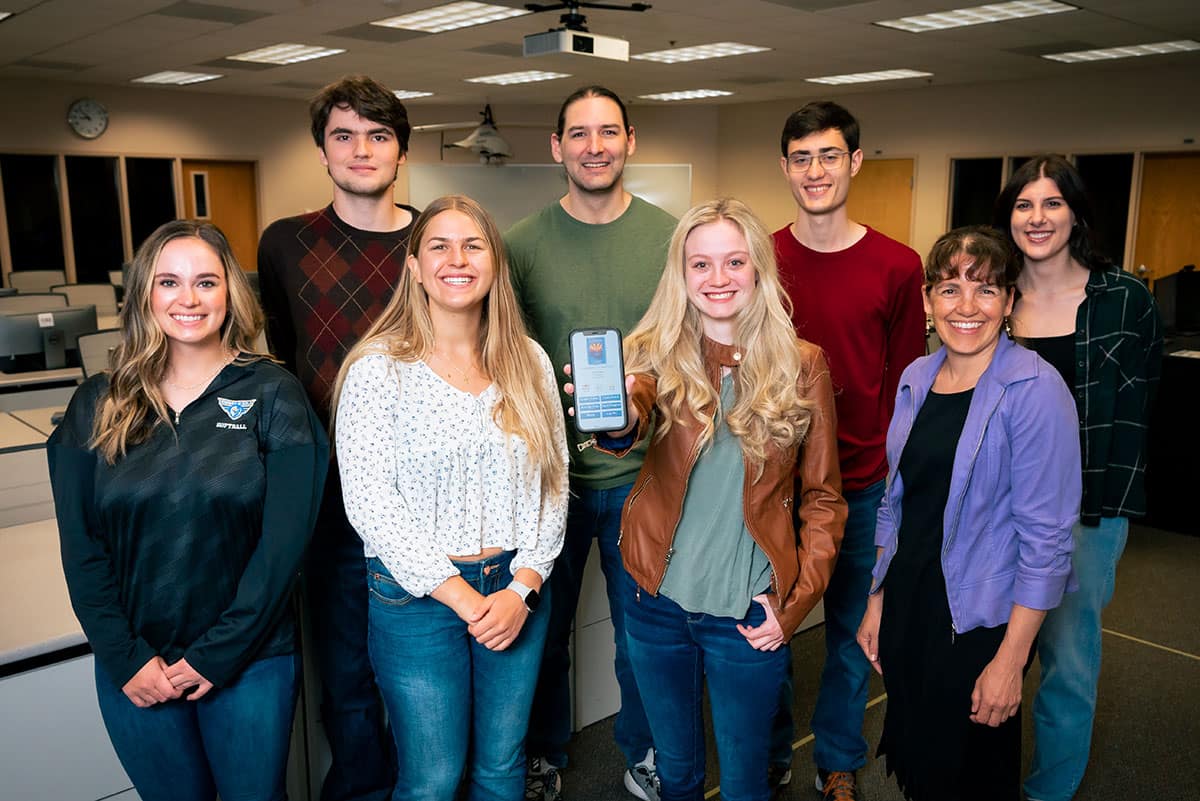 Starting in May, Arizona pilots can use an app newly developed by Embry-Riddle Aeronautical University students for the Arizona Pilots Association to track pilot visits to airports and state aviation sites. The app is part of a program to introduce pilots to less-visited aviation sites and increase their comfort level when visiting unfamiliar airports.
"I always look for opportunities for students to apply their learning," said Reg P. Parker, assistant professor at the Department of Global Security and Intelligence Studies. "The important thing here is that we are actually producing a product for a client, as opposed to completing an exercise in class."
In order to increase the visibility of a state's airports and give pilots a reason to visit smaller airports, a number of states have implemented "passport" programs in which pilots register airports that 'they visit and receive prizes when they reach a number of different destinations,' said Heather Marriott, an assistant professor at the Department of Computer, Electrical and Software Engineering.
Parker and a former business associate member of the Arizona Pilots Association proposed that a mobile application be developed by Embry-Riddle for such a program in Arizona. Programs in other states depend on booklets and paper stamps.
The app was designed in collaboration with Embry-Riddle students who are majoring in Simulation Science, Games and Animation; Software engineering; Cyber ​​intelligence and security; and Global Security and Intelligence. Funding for the project was provided by Embry-Riddle's Undergraduate Research Institute.
"What makes this project truly unique is the cooperation between departments," Marriott said. "Professor Parker works with three project management students while I work with five students from three different departments."
Parker said such cross-field collaboration provides a great experience for students embarking on their careers.
"My career at GE and Motorola was in managing technical engineering programs, and in industry there are always cross-functional dependencies," he said.
Danielle Jamieson, head of global security and intelligence, said the project taught her a lot about project management "in the real world".
"It's one thing to learn the principles, and it's another thing to use them on an actual project for a client," Jamieson said.
Paige Cody, a junior with a bachelor's degree in simulation, games and animation science, said she had never built an app before joining the project, having focused more on working with games computers.
"I was able to deepen my knowledge of the tools and production of a phone app," Cody said. "I also learned a lot about how to take a project from start to finish and how to communicate with the customer to create a product that everyone can be proud of."
The release of the application developed by Embry-Riddle is scheduled for May 1st. It will allow pilots to collect virtual passport stamps at any of Arizona's more than 60 airports.
Posted in: Aviation | Business | Computers and technology | Engineering | Security and Safety Intelligence