Partner BioInspired and Ichor Therapeutics for project management training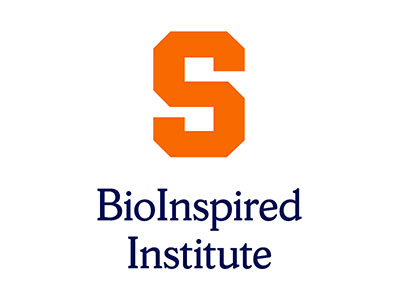 the BioInspired Institute performs cutting-edge work in complex biological and material systems, but from its inception, management and faculty have been committed to providing students and postdoctoral fellows with more than just technical training.
"As professors, we know we're growing qualified scientists and engineers," says Lisa Manning, director of BioInspired, Kenan Professor of Physics in the College of Arts and Sciences.
"But what helps them stand out in the job market is a set of soft skills. To be polite and thorough scientists and engineers, there are things that are not taught in many programs.
This is why the BioInspired Institute recently joined forces with Ichor Life Sciences, Inc. provide training in project management. Ichor Life Sciences is a local biotech company that studies the fundamental mechanisms of aging to develop therapies to help people live longer, healthier lives. It's the kind of company that Syracuse graduates interested in working in the biotechnology industry might aspire to join after graduation.
BioInspired COO Jeremy Steinbacher says project management is central to what senior researchers do, but they often don't recognize it. Steinbacher should know that, because he earned a Ph.D. in Chemistry and Chemical Biology from Cornell University. He worked as a faculty member for the US Department of Defense and consulted for industry in his area of ​​expertise.
"Partnering with Ichor Life Sciences to provide project management training is extremely beneficial for students and postdoctoral fellows. They have a real-world focus on key project management strengths that really speak to the education of our students here at Syracuse University," he says.
Kelsey Moody, CEO of the company, agrees. He says, "We were privileged to participate in the Project Management Workshop Series with the BioInspired Institute at Syracuse University and support their mission to provide hands-on training for students and faculty in the sciences of the life.
Project management is just one of five tracks of professional development offered by the BioInspired Institute, but Amanda Campbell, who is completing her doctorate. at the Department of Earth and Environmental Sciences, says it caught his eye because "I know how crucial the skill set is and how valuable it is for future employers, especially in the private sector. I want to become more proficient in the jargon and tools used in project management.
Campbell's Ph.D. research focuses on naturally dissolved methane in groundwater, which can change over time and make it difficult to assess the impacts of natural gas production. She found that some well waters change significantly and that one sample is not necessarily representative of general conditions, implying that water wells should be tested on at least three different occasions to be able to identify those that are naturally change. She also developed a model that can predict which household water wells are likely to have naturally high concentrations of methane based on water chemistry. The work has implications for the oil and gas industry, and she enjoys the applied aspect of it. She says her career aspiration is "to solve problems, whether in the private sector, through consulting, or in the government sector." She learned that project management tools not only help solve problems more efficiently, but can also help scientists sell confidence in their expertise. "Stakeholders don't need to be as knowledgeable as you are, but they need to know that you understand their problem and can solve it for them."
"These are skills that many scientists and engineers learn on the job," says Jay Henderson, associate director of BioInspired and associate professor of biomedical and chemical engineering. "In deciding how BioInspired could truly add value to our students and postdoctoral fellows, our faculty identified skills such as project management, research communication and scholarly publishing as key strengths that can help scientists and engineers trained in Syracuse to stand out in the job market. You can have the best technical skills and struggle to succeed without the ability to gain trust, organize big projects, and communicate your research.