Research Project Management Officer – Carbon Tracker Initiative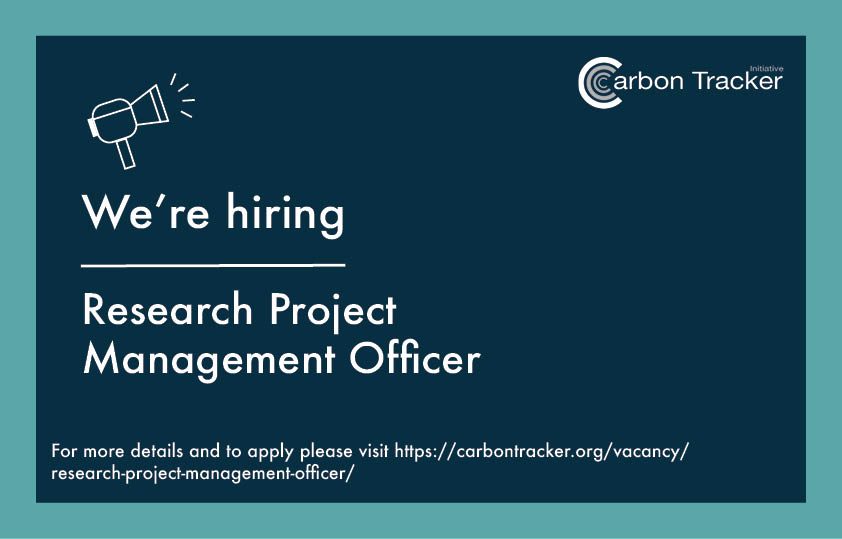 role title Research Project Management Officer
Location Hybrid model, London Bridge office location
Report to Head of Development
Start date as quickly as possible
Term Permanent
Download the job description here
Organization
Carbon Tracker Initiative is an independent financial think tank that conducts in-depth analysis of the impact of the energy transition on capital markets and potential investments in carbon-intensive, high-cost fossil fuels. We believe that financial markets, regulators, investors and policymakers all have an urgent role to play in guiding the world towards a climate-safe energy system. Carbon Tracker's analysis of 'non-combustible carbon', 'stranded assets' and 'wasted capital' has reframed the debate on climate change risk.
Role overview
This is a newly created mid-level role to help coordinate and have an overview of projects across the research department. Reporting to the Head of Development, your role will be to coordinate teams and processes to ensure our projects are delivered on time to produce maximum impact. Your primary responsibilities will include developing detailed project plans in coordination with project teams, ensuring resource availability and allocation to enable teams to deliver projects on time, within budget and of scope. The ideal candidate will have a background in project management, budgeting and analysis. You must be an excellent communicator and be comfortable handling multiple tasks. You also need to be a team player and have a problem-solving attitude. This is a key role in the research production process, working with communications, investor outreach, research and development teams internally and with external partners. You will play a key role in managing the effective production of all our research output, including reports, analyst notes and blogs.
This role would be ideal for a Project Management Officer looking to take on a new challenge or a Senior Project Coordinator looking to take a new step in their career.
Role and responsibilities
Central and system-level project management and workflow coordination to ensure all research projects are delivered on time, within scope and budget of all research teams. Use top notch project management skills to identify dependencies, issues, risks and contingencies.
Work in partnership with project owners/sponsors to develop the scope, objectives and deliverables of research projects, involving all relevant stakeholders, ensuring technical feasibility and resource availability and eliminating duplication of efforts.
Develop and maintain a detailed project plan to track progress, use appropriate techniques to manage changes to project scope, schedule and cost.
Improve visibility and communication of project status at the team and system level.
Work with our technology partners on specific data project management needs.
Measure project performance using appropriate systems, tools and techniques. Report and escalate issues to management if necessary.
Own all key administrative and production elements and support research analysts throughout the project life cycle.
Ensure responsibilities are understood and internal processes are followed. Suggest improvements and implement changes, communicating internally with the team on process updates.
Help standardize project management tools consistently across teams to promote knowledge sharing and team collaboration.
Work with our external partners to ensure the efficiency of the production process, manage the agreed structure and timelines, roles and responsibilities, plan proactive follow-ups and sustained positive communication between all parties.
Coordinate internal research production calls, including research, outreach and communications teams, to keep everyone up to date.
Skills, experience and qualities required
Proven work experience in a project and process management coordination role – preferably in a research setting.
Excellent project management skills, PMP/PRINCE II certification an asset
Solid experience in program and pipeline strategy and planning
Demonstrated ability to meet deadlines and manage and prioritize concurrent demands. Methodical and organized with great attention to detail. Solution oriented.
Highly developed interpersonal skills and ability to adapt to various relationship management needs
Team player, high integrity, diligent, flexible, positive attitude.
People management experience
Ability to understand and articulate complex processes
Experience with project management apps and tools, e.g. Monday.com, Salesforce, an advantage
Solid working knowledge of Microsoft 365
Plan and benefits
£40,000 to £45,000 depending on experience, 7% pension contribution,
25 days of vacation, with an additional day granted for service, capped at 5
Discretionary bonus (depending on funding and company performance)
Cycle-work program
Access to Employee Assistance Program
£150 allowance to set up your home office space
£20 monthly telephone allowance
Annual team travel
Applicant Information
Please apply at https://apply.workable.com/carbon-tracker/j/124E729659/
The closing date for applications is February 28, 2022.
Applications without a cover letter will not be considered.
Carbon Tracker can only consider candidates eligible to work in the UK.
We strive to ensure that work and development opportunities at Carbon Tracker are open to everyone. We welcome applications from all qualified applicants regardless of age, disability, gender identity or gender expression, race, ethnicity, religion or belief, gender, sexual orientation, and any equality characteristics.
Carbon Tracker supports flexibility and we welcome career feedback.
GDPR Disclaimer
Carbon Tracker will process all data provided in response to this open position for recruitment purposes only. We will retain applicants' personal data in our applicant tracking system which is fully compliant with current GDPR legislation until our vacancy is filled. We cannot state the exact period for this as it varies from role to role. The period is over when a candidate accepts our job offer and starts in the new role. Once this period is over, we will delete your data. You have the right to lodge a complaint about the way we process your data with the Information Commissioner's Office (ICO) or you can contact us directly if you have any concerns you wish to discuss.